by Michelle Lentz
Thanks to Brian's own Twitter feed, I've discovered that its possible to make Twitter backgrounds with Powerpoint or Keynote. You don't have to rely on Twitter's own backgrounds or your lacking graphic design skills.
One of Brian's tweets led me to Thomas Carillo's The Closet Entrepreneur, where we're offered Keynote and Powerpoint templates for Twitter backgrounds. Cool, yes?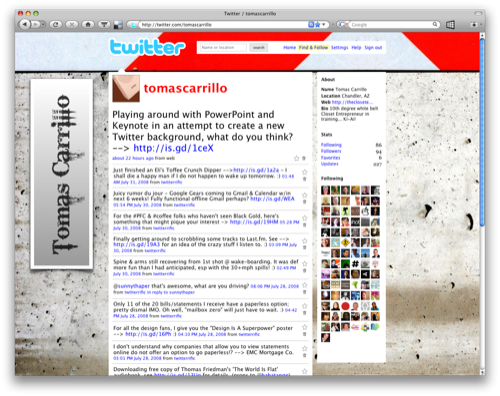 I think the Twitter background is a pretty underrated thing. It's a great way to advertise yourself and your personal (or professional) brand in graphics and using more than 140 characters if you want. I've seen some rather kick-ass Twitter backgrounds. It's nice to know there's a template out there that helps me create a more professional appearance without my having to actually know the pixel sizes for the various columns and rows.
Thomas also points us to the Extended Twitter background collection on Flickr, which is impressive on its own and may serve to inspire you.
Happy Thanksgiving!
–
Contact Michelle with your news, apps, and events via email at michelle[at]writetech.net, Twitter, Pownce, or FriendFeed. Visit Michelle at Wine-Girl.net and Write Technology.