By Julie Blaustein


The time is ripe. Web 2.0 fever is hot. The VCs are out there. Things still look quite bub.blicio.us. The Entrepreneurs are seriously seeking networking opportunities. Developers are hanging out knowing there are bound to be folks desperate to finish their product. This is where SFWIN comes in.
San Francisco Web Innovators (SFWIN) is a monthly interactive Web networking event for emerging companies and entrepreneurs to hook up with one another.
Unfortunately the ratio of men to woman was about 20:1. Perhaps they should partner with Women 2.0. The event was sponsored by Orick which is a great match as they are legal advisors for emerging companies, the type to demonstrate at their events.

SFWIN Founders of SFWIN – Photo Credit: Julie Blaustein (unless otherwise noted)
There were 3 demos that refreshingly moved along at a fast clip:

Change.org: Ben Rattray, Founder
This is not what one expects from a social network – its a social network for hundreds of social causes and over 1 million nonprofit organizations. It has great content throughout, truly networking users with other users and their causes. Once the cause is posted, there are reviews, supporters, photos, videos, projects, action to take and of course a blog to promote it. There are some cool features like AJAX maps and tech clouds giving it a the "cool" factor.

eRealInvestor: Mike Genstil, Founder
These guys love technology, real estate and numbers, not necessarily in that order. They have come up with a site that will help anyone who is investing through their patent-pending eRealAnalyzer to combine the latest Web technologies with their domain experience in real estate.


Two Lattes: Pascal Perez, Founder
The place where you can make lists and post it on the Internet. You can make them for family or friends or you can share them on your social network sites, blogs or forums.Here is an example of a list that was set up by them.
The SFWIN Scene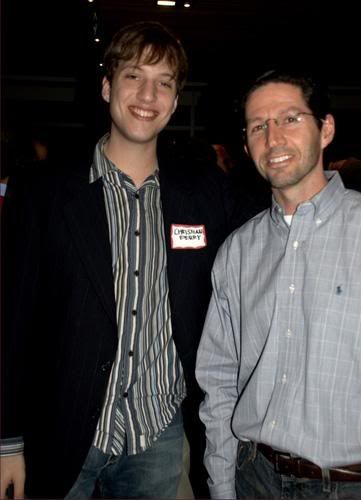 Christain Perry and Colleague

Hrach of Conan Partners

Clauda and Tom of Penguin Computers

Julie Blaustein mixing it up! – Photo Credit: Brian Caldwell

Ralph Maxx and Susan Mayz
To see more pictures go to Julie Blaustein's Photobucket or Brian Caldwell's album with SFBIG's gig on flickr.
sfwin sf+win web+2.0 web 2.0 women2.0 orick change.org erealinvestor twolattes bub.blicio.us bubblicious slide slidesf christianperry sfbeta penguin+computers ralph+marxx