by Michelle Lentz
I love it when I wake up in the morning and instantly hear something on my radio that screams "bub.blicio.us post", even before I get out of bed.  
I wake up to NPR every morning because news will get me out of bed. Music, on the other hand, keeps me in bed longer. I'll sleep through it. News starts to wake up my brain. This morning, my local publicly-supported radio station was having their spring fund drive and offering "the radio bookmark" as an incentive. That got me out of bed rather quickly – I wanted to know more.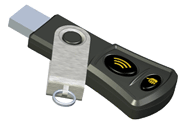 The Radio Bookmark looks like a USB key with buttons, and can be attached to your key ring. You can save and bookmark stories you hear on the radio.
It's pretty simple, actually. Instead of sitting in your car, waiting for a story to end, you can just bookmark it by hitting one of the buttons. The device records the time and station of your bookmark. When you get to a computer, you can plug in the USB key. It launches a web page displaying your bookmarks, including the story, show, and exactly where you left off so you can start from the middle.
Basically, the device is keyed into specific stations. When you plug it in, it queries those station schedules to find out what happened at a specific time stamp. It's simple, but brilliant. On the web page you can save, share, and delete, and replay. It also displays additional story information and related stories.
There are a few catches to this nifty little device. Right now, you can only get one by pledging at least $120 to specific public radio stations. It's also only designed, at the moment, to work with publicly supported radio stations and is subscription based: donate $120 again next year and get another year of bookmarking service. It currently only works with two radio stations, although that's a beta issue. I was happy to find out that Cincinnati's WVXU is one of those two stations, as usually we're behind the curve, not ahead.
When I'm in the car, you'll usually find me listening to my iPod, Sirius, or WNKU, another publicly-supported local station that plays more alternative music. I think the Radio Bookmark will also be competing against NPR podcasts I can pop onto my iPod. But there are times I need a news fix, or discover a particular show while driving. In those times, it would be great to have a radio bookmark instead of having to sit in my car until there's a good stopping point in the story.